If you're considering filing a medical malpractice lawsuit, one of your first questions is likely, "What do I need to prove?"
A legal claim for medical malpractice usually comes down to establishing that your doctor or another healthcare professional was negligent. The doctor providing medical care or treatment was negligent, and you felt it.
In addition, medical malpractice lawsuits depend on whether or not the doctor or medical team acted within the standard of care in treating the patient with injuries. You may have a case if you can show that your doctor was working below the level of acceptance for caring for patients. If this breach was the reason for your injuries, you certainly have a case.
Nevertheless, cases like this in Texas can be a challenge, thanks to tort reform measures put in place back in 2003. These measures made medical malpractice cases both tougher to bring and arbitrarily capped the total amount that one can recover in such a case. You may already know that many attorneys in Houston can simply not help with your potential claim. It (as defined by law) can be tough to prove in many circumstances, but our attorneys are well-knowledgeable in the law and are happy to review the facts of your case for free.
To have a viable case, the patient must prove four things:
In other words, the doctor had a duty to take care of the patient.
The doctor's treatment of the patient fell below acceptable standards.
A serious, irreparable, or compensable injury was sustained by the patient.
Medical malpractice on the part of the doctor led to the patient's injury.
Medical malpractice is often associated with physicians, but many other types of healthcare professionals are in a position to make a mistake that could seriously harm or even kill a patient. Any of the following providers can and should be held accountable for their negligent actions which result in serious injury:
Doctors
Hospitals
Nurses
Nurse practitioners
Therapists
Surgery centres
Midwives
Psychologists
Psychiatrists
Anesthesiologists
Nurse anesthesiologists
Physical therapists
Lab technicians
Nurse aides
Nursing assistants
Medical spas
Walk-in care facilities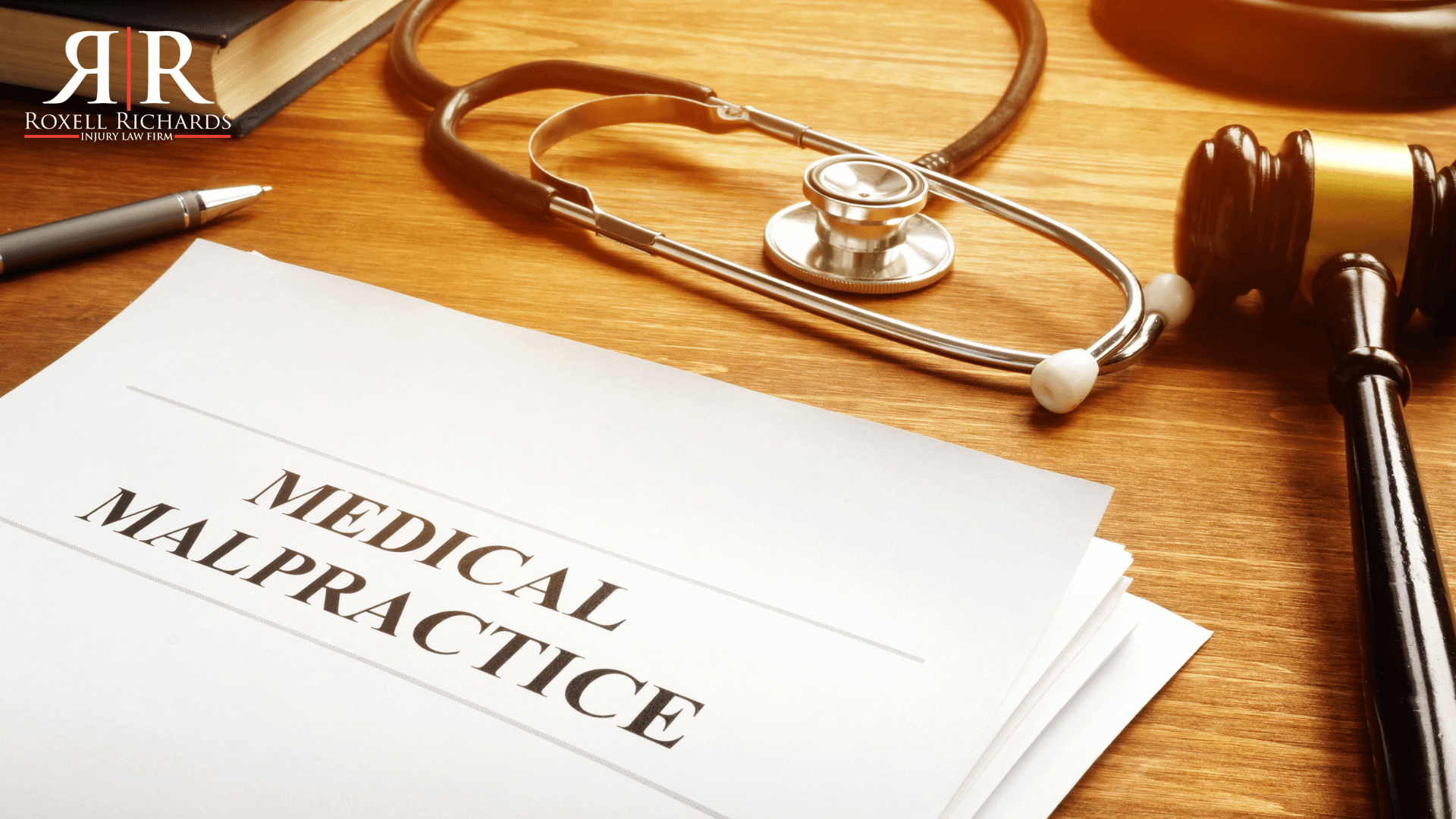 Why should I get a medical malpractice attorney?
If you or someone you love is a victim of medical malpractice, it is better to hire a medical malpractice lawyer in Houston, Texas. But you must have the right type of personal injury lawyer to represent you and get you the justice you deserve expertly.
Also, if someone was medically negligent, you need someone with multiple years of experience in malpractice suits. Because it's not just about medical errors or even surgical errors. Also, these could potentially turn into wrongful death situations.
However, in the United States, law firms often charge high legal fees. Good thing that there are law offices like that of Roxell Richards Law Firm. And we accept payment on a contingency fee basis. You don't pay unless YOU WIN.
Finally, call us today at our local phone number (713) 974-0388 or via our toll-free number 1-855-GOT-INJURED. We offer to review your case for FREE! Make sure to share all relevant information, such as medical records, so that we can assess your case thoroughly.