Motorcycles make traveling convenient and way faster. Think about zipping through all that traffic while all other vehicles are at a standstill on the road. Motorcycles enable us to simply go faster and to get our deliveries much quicker.
According to the National Safety Council, not a lot of Americans don't seem to use motorcycles that much. The agency reports that motorcycles only make up roughly 3 percent of all vehicles registered in the entire country.
Indeed, three percent does not sound quite a lot, right? After all, there seem to be more car accidents, DUI accidents, and truck accidents than motorcycle accidents.
But the NSC reveals that motorcycle accidents contribute to about 14% of all vehicle deaths nationwide. Figures in 2020 report that there have been 5,579 deaths that were caused by motorcycle accidents.
Imagine motorcycle accidents tragically affecting all those lives. Data from the National Safety Council reveal rather shocking findings regarding motorcycle accidents.
In the year 2020 report alone, motorcycle accidents that have led to fatalities were occuring mostly on urban roads, during good weather and in broad daylight. Most of the fatal crashes involved two vehicles, and deaths even occurred even if 58% of the motorcyclists were wearing helmets.
Know someone who has injuries from a motorcycle accident case? Read on to get answers on frequently asked questions about motorcycle accident claims.
What Are Common Motorcycle Injuries?
These alarming statistics show just how vulnerable motorcycle riders are. Given the nature of a motorcycle, they do not have the protective covering of a vehicle like a sedan or an SUV. And if another vehicle crashes into them (which happens most of the time), motorcyclists tend to bear the brunt of the injuries.
And just what kind of injuries are usually sustained by motorcycle riders? Let us take a look at a study published by the United States National Library of Medicine, National Center for Biotechnology Information. Research reveals that older motorcyclists tend to sustain rib injuries, such as multiple rib fractures.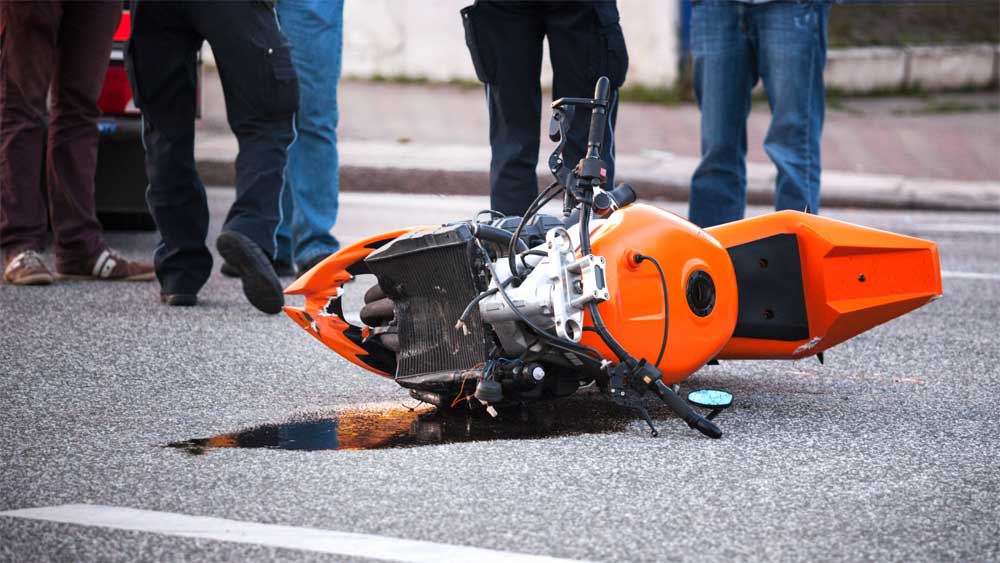 Motorcycle riders who unfortunately passed away in fatal accidents suffered from the severe chest and abdominal damage, even if they wore helmets while they were on the road. Other catastrophic injuries also included damage to the head that led to brain injury that was from the accident. There have been numerous reports of fatalities in motorcycle riders suffering from head trauma as a result of motorcycle accidents.
In fact, motorcycle riders who get into an accident encounter so much pain and suffering. In addition to dealing with their bodily injuries, motorcycle accident victims also have the additional burden of worrying about the financial costs of the accident.
What Kinds of Losses Are Shouldered by Motorcycle Accident Victims?
Undoubtedly, being a motorcycle accident victim is a lose-lose situation. Victims already have to suffer bodily injuries that could be very severe. On top of all that, they would have to worry about their future and the many medical expenses they must shoulder.
A quick trip to the Emergency Room could already cost quite a lot. Then, there are lab tests that need to be conducted, treatments or surgeries that need to be paid for, and doctor fees that need to be settled.
Accident victims must worry about the days or weeks they must spend recovering in the hospital, as those will be expensive. Afterward, checkups, doctor consults, and recurring therapies, treatments, and medication must also be considered.
And those are just the medical-related bills. Workers must consider that they will have lost days at work while recovering, which also translates to lost wages. Parents might have to worry about additional childcare expenses. Some victims who have sustained serious injuries might also have to hire caregivers as well.
Imagine all those financial expenses. Add to that the intense emotional distress of recovering from a traumatic and life-altering accident. Unfortunately, it is a very difficult and stressful period for motorcycle accident victims who were at the wrong place at the wrong time.
How Can Motorcycle Accident Lawyers Help Motorcycle Crash Victims?
That is why it is necessary that accident victims get all the help that they can get. Legal assistance from experienced attorneys could help ease the burden. Motorcycle accident lawyers provide legal services such as representation in court for personal injury victims. They could also lend a hand when victims are filing compensation claims from their insurance companies.
Often, the at-fault party (the individual who caused the accident) or the insurance company would rather deal with the compensation claim quickly. How can they do that? Giving a settlement offer with compensation much lower than the expenses shouldered by the injured party.
Top-notch motorcycle accident lawyers would advise their clients not to fall for the insurance companies' lowball schemes. Accident victims' lawyers would know the rightful compensation that their clients deserve. After all, they considered all the medical bills and other financial expenses the injured party had to shoulder because of the accident.
The incident is not the victims' fault, so why should they carry all the burdens? They deserve justice for their troubles and the proper compensation from the liable party so they can pay all their medical bills. Your motorcycle accident lawyer will definitely recommend the best option for you.
Excellent motorcycle accident lawyers also give their clients guidance. Especially when filling up all the necessary paperwork for their compensation claims. These documents could get very technical, with lots of legal jargon that could be very confusing. Experienced motorcycle accident attorneys would know exactly what information is required for all the paperwork.
What Are Motorcycle Accident Claims?
The injured party in a motorcycle accident case has every right to demand compensation for the losses caused by the accident.
This compensation is by no means a get-rich scheme. Rather, recovering compensation means the injured party would be able to pay off all the medical expenses. Also includes the cost of repairing property damage (in the case of wrecked motorcycles) and lost wages because of the motorcycle crash.
Compensation claims enable victims to get justice from the at-fault party. It is a form of reparation for the injured party's troubles. After all, the victims had to endure so much pain and suffering for an incident that was entirely not their fault.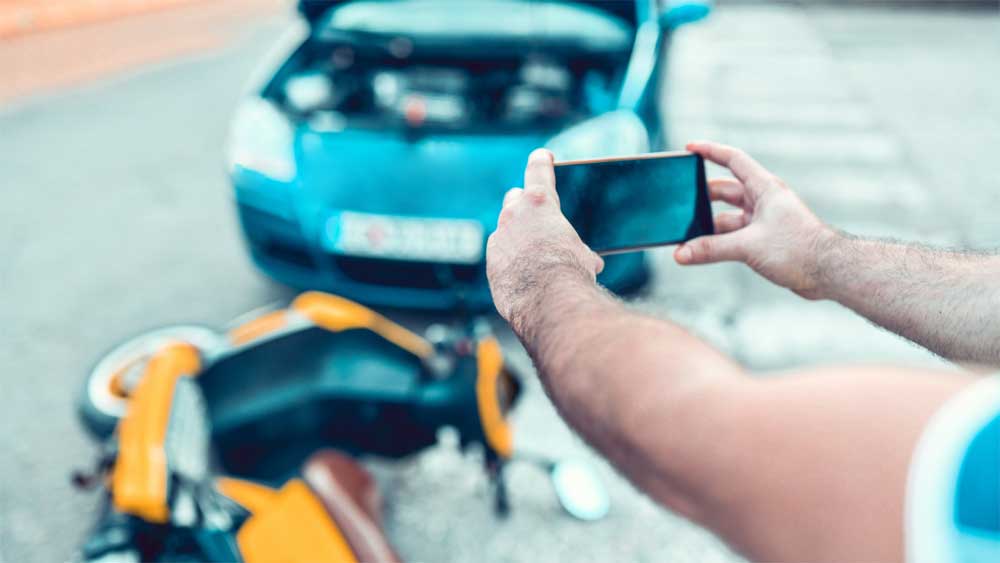 The consequences of being a motorcycle crash victim could be life-changing, considering the severity of possible bodily injuries. Some would have to go through life with permanent disabilities as a result. Some could not return to their normal lifestyles before the motorcycle crash. These victims need justice. And they could attain that by getting the proper compensation they are due.
How can motorcycle accident lawyers help victims with their compensation claims?
Experienced motorcycle accident lawyers can help victims how to file a motorcycle accident claim. They provide their expertise and advice as victims go through the entire process of filing a compensation claim with the insurance company. Their assistance will prove very much helpful to the injured party. Because they do not need the additional stress of tediously filing a compensation claim.
Because we got to admit filing a compensation claim could get really challenging. Insurance companies could make it extra difficult for the injured party to secure the proper compensation that he or she is due.
How can they do that? By implementing very confusing processes to discourage motorcycle accident victims from filing their motorcycle accident claims in the first place. Papers could get lost along the way. Also, confusing technical and legal jargon documents must be submitted. In fact, new requirements might suddenly get imposed while the injured party is already in the midst of submitting a compensation claim.
Victims might be asked to return weekly to file paperwork or follow up on their cases. It could be so tedious. As a result, victims still recovering from their physical injuries might have no choice but to give up on their motorcycle accident claims.
Insurance Companies Can Get Dirty
Another situation that motorcycle accident victims could encounter is that insurance companies would want to get over their cases so quickly. And with that, they will get a settlement offer right off the bat. The injured party should be wary of such situations. In fact, the liable party or insurance company might give a lowball compensation just to get the case closed.
Neither scenario favors the motorcycle accident victim, and this is where top-notch lawyers could step in and help. Excellent motorcycle accident lawyers will get their clients the right compensation they deserve.
They can provide assistance in the compensation claim process by helping the injured party correctly fill up the necessary documentation. They could advise providing strong evidence to support the claim, such as attaching a police report on the accident scene. And they will represent their client in all dealings with the insurance companies, so lowball settlement offers will definitely put off the picture.
Do I really need all that help with my motorcycle accident claim?
You may think of filing and handling a motorcycle accident claim on your own. To be honest, you are right. Anyone is totally capable of recovering compensation from their insurance companies. But the thing is, not everyone will get the correct compensation that they deserve.
Having a motorcycle accident lawyer by your side can ensure that won't happen to you. Your attorney knows the rightful compensation that you are due. Lawyers take into account all the losses that the injured party incurred due to the motorcycle crash. So you can be assured that all those medical expenses, lost wages, and vehicle repair expenses have already been factored in by your motorcycle accident lawyer when you discuss your compensation claim with the insurance company.
In addition to getting assistance with all the paperwork and representation, the best part about getting a motorcycle accident lawyer is the message you send to the insurance companies and the at-fault parties.
What message is it? You are directly informing the insurance company or at-fault party that you cannot be harassed into agreeing to a lowball settlement offer from them. You are standing your ground. In fact, you know and will continue to demand the right compensation that you deserve. And you simply cannot be duped.
Because of this message, insurance companies and other liable parties would think twice about using cheap tricks and underhanded tactics in order to make you settle for lowball compensation. They know that the injured party has the guidance of a motorcycle accident lawyer who is equipped with years of experience and proper legal knowledge. Knowing this will be enough to deter them from cheating you out of your settlement.
How do I find the perfect motorcycle accident lawyer to help with my compensation claim?
Motorcycle riders who get into an accident already have too much on their plate. They have experienced so much pain because of a motorcycle crash. They've had enough stress. They don't need additional troubles as they file their compensation claims.
Instead, what they need are top-notch motorcycle accident lawyers who are not only knowledgeable about the law but are also compassionate and will always put the victims' welfare as their top priority.
At Roxell Richards Personal Injury Law Firm, our lawyers are not smart, but they also got hearts. We provide the best legal services without charging hefty hourly fees. Instead, we take cases on a contingency fee basis. This means that some of the injured party's compensation will go towards our legal assistance. Isn't that a win-win?
Got more questions? Get in touch with us for your free case evaluation form. Complete a free legal consultation call. Yes, you read that right. Call us, and you will get free legal consultation! You can reach us at 713-974-0388 or 1855-GETINJURYHELP.